put the jar in hot water uwu

Would it still be good though? Since it was open? 
It should be fine. It's actually pretty hard for Honey to go bad.
Mary River Turtle (Elusor macrurus)

- Endangered, found occurs in SE Queensland, Australia

(photo: Manda @ I Love A Sunburnt Country)

they're like mini-island turtles holy shit
So that's what a lion turtle looks like when it's small.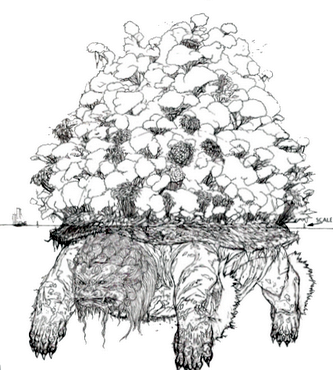 Nendoroid Colossal Titan Is Absolutely Terrifying

Have you ever thought to yourself "Nendoroids are so cute and adorable, I'm tired of that! Let's see one that gives you horrible, bone-shattering nightmares and haunts your waking hours!" As much as I like to joke about Mikudayo she's still pretty cute, but apparently Good Smile Company has taken my messages to heart and is creating the first truly nightmare fueled Nendoroid–Colossal Nendoroid from Shingeki no Kyojin.

hello gsc how do i give you my money for this because i need it as of yesterday

i may or may not also have a thing for horrifyingly creepy figurines

Oh my god I want this so bad. 
Why do I suddenly imagine a bunch of these just, wandering around in a room in Silent hill? You go in, and you're stuck, and just, thousands of these little guys wandering around the room, climbing up your leg, biting at your flesh, as you panic, trying to escape from the room.
andiamburdenedwithgloriousfeels:

This is pretty much me in the shower

when you take a shower you turn into gollum?????

myyyy coNDITIONEERRRRRR

And when the conditioner gets in my eyes, I screech:

IT BURNS UUUSSSSSSSSSS

This turns up on my dash every few days and makes me laugh every time.
This is completely unempressive cosplay progress. But belt dangly bits for Moltres.
Also I really need to hang up this poor mirror. Such an odd angle.
Piccolo reacting to things.
Abercrombie and Fitch has decided that anyone over a size 10 jean isn't sexy enough for their clothing line, and doesn't want them shopping in their stores and sullying their clothes. They decided to only hire good looking people so that only good looking people will come into their store.

"It's almost everything. That's why we hire good-looking people in our stores. Because good-looking people attract other good-looking people, and we want to market to cool, good-looking people. We don't market to anyone other than that,"

That is an actual quote from their CEO Mike Jeffries.

I know I don't have a lot of followers but this is something that isn't right. They're excluding people from being able to buy their clothes and they make it seem like it isn't okay for people to be slightly chubbier or bigger than the average "cool kid" to own their clothes. This is something that shouldn't be allowed to happen.

I've seen tumblr do some amazing things, and this place would be even more amazing to me if we were somehow able to show the douchebag who runs this company that his elitist, skinny-people only attitude ISN'T okay, and that we won't stand for it.

Another quote from the article by Jeffries:

"In every school there are the cool and popular kids, and then there are the not-so-cool kids. Candidly, we go after the cool kids. We go after the attractive all-American kid with a great attitude and a lot of friends. A lot of people don't belong [in our clothes], and they can't belong. Are we exclusionary? Absolutely."

And according to the source, Abercrombie & Fitch has no problem selling XL and XXL clothing to MEN. So this isn't just body-shaming and dismissal of overweight people in general, but OVERWEIGHT WOMEN SPECIFICALLY, who are by Jeffries' SUPREME judgment objectively incapable of being cool or attractive.

FUCK

THIS 

GUY

"Jeffries said he thinks that including everyone would make his business boring."
Can I also point out what this guy looks like?
The guy is 61 years old, has has multiple plastic surgery, and has the perpetual habit of saying dude and doesn't want to feel "old"

I can't take this guy serious. Especially on his view of "fat woman" The guy obviously has issues with his perceived idea of beauty, and has basically mutilated his face in an attempt to stop himself from looking old. It's obviously plain as day he has insecurities about his own appearance. and it's obviously reflected in his business practices.
Forgot how to cat. Learned how to snake.
The Real Abandoned Overlook Hotel

Unlike the fictional Overlook Hotel in Stanley Kubrick's The Shining, this hotel is really named the Overlook. The abandoned hotel is located in the small, wine growing town of Bernkastel-Kues in Germany. Other than it has been unoccupied for about 13 years, there is no information as to why the hotel was closed. All of the furniture remains and it looks as if everyone there simply left. There are rumors that the hotel is haunted. According to urban explorers who frequent the spooky site, cameras malfunction, sounds can be heard throughout the premises and items seem to move around the hotel by themselves.
Wow, the first few shots looked like a high render from a game. Now I just feel like it'd be an amazing place to do a Silent Hill shoot at.